Endometriosis is an often painful and debilitating inflammatory condition, but there are diet and lifestyle actions you can take to lessen the symptoms and decrease the impact.
In our 30 Days of Tips for Endometriosis (created to support Endometriosis Awareness Month), Kirsty shares her top 30 tips to support yourself if you live with endometriosis.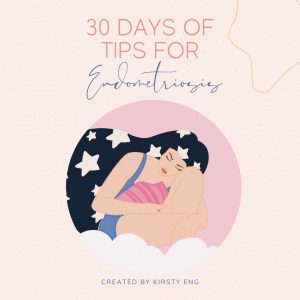 Sign up below to get your free copy.
Please note it may take a few minutes for your email to arrive. If you haven't received your download in 15 minutes, please check your Spam/Junk folder.
You'll also receive updates and information from Kirsty Eng Fertility. We promise we won't bombard you with emails and you can unsubscribe at any time.