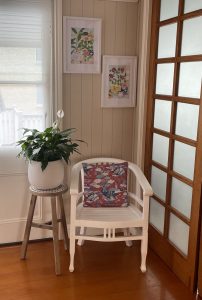 Are you an Acupuncturist Passionate about Fertility and Women's Health?
Our busy clinic is looking for another acupuncturist to join our expanding team of practitioners and nurture and assist our ever growing client base.
About Us
Kirsty Eng Fertility is based in Herston, Brisbane, has been established for over 18 years and has a team of 4 practitioners who are passionate and focused on providing fertility acupuncture support.  
The clinic has built a strong reputation in the community and with IVF clinics, maternity hospitals and online groups and forums.   The scope of Kirsty Eng Fertility services include:pre-conception care, natural fertility support, IVF support, labour preparation, pregnancy support, post-partum wellness and general health.
Kirsty Eng Fertility has a strong culture of teamwork to give our clients the best treatment outcomes and continuity of care. Practitioners are trained in established and evidence-basedprotocols to ensure consistency of care and maximise outcomes for our clients.
Given the extensive training and support provided, this role would be suited to someone hoping for long term employment with our company.
If you have a passion for women's and family health, you're skilled in interpersonal relationships and are looking to be part of a genuine team, we would love to hear from you.
About the Role
This is a part time permanent position with the hours to be set at approximately 15-20 hours a week, with the flexibility for these hours to extend in the future.
As a busy clinic, you will be expected to manage multiple rooms.  We endeavour to have reception support during busy times, however, it is expected that you will manage reception outside of this.
Requirements of the Role
•
Current Professional Indemnity Insurance
•
First Aid and
C
urrent CPR
•
Eligibility to work and live in
Australia
•
Applicant not to be running their own business
.
•
R
equired to work evenings and Saturdays
.
Benefits of the Role
This position is a salaried role and therefore includes superannuation, paid annual leave and sick leave.  
You will receive 4 weeks in clinic training in fertility protocols and clinic procedures, in addition to ongoing mentoring and support. You will also be required to assist with general administrative and clinical duties and uphold our strict hygiene procedures.
Given the strong reputation of Kirsty Eng Fertility, the focus for marketing is less on bringing and attracting your own clients, and more on nurturing the busy existing client base and new clients as they come in.   All equipment (needles, laundry, PPE etc) is provided.
 Application Process
If this supportive team environment interests you, please send a cover letter and CV to info@kirstyeng.com.au by June 10th 2023